Erin Cronin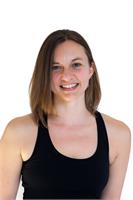 Erin began practicing yoga in 1997 in a small studio in Bowling Green, KY. She moved to Louisville, KY in 2002 and came upon Laura Spaulding at Yoga East and fell in love with Ashtanga Yoga. She is certified RYT-500, graduating from Yoga East's 200 hr training in 2009 and 300 hr module in 2012. Laura Spaulding has been her teacher and inspiration, and she has also studied at KPJAYI in Mysore, India, and is influenced by workshops with David Swenson, Kino MacGregor, David Garrigues, Ramanand Patel, Doug Keller, Francois Raoult & Christina Sell. She is an avid Ashtanga Yoga practioner who enjoys dabbling in other forms, as well.
Erin Cronin instructs the following:
Erin leads Ashtanga Primary Series - a sequence of 48 yoga positions that begin with sun salutations and includes standing poses, seated forward folds, arm balances, and ends with shoulder-stand and headstand and relaxation. Erin gives easy-to-follow instructions, but this class is not for new yoga students or if you have issues with your knees, wrists or back. Recommended for students in good condition with two or more years of yoga experience.