Becky Thompson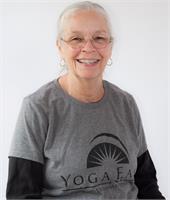 I took my first yoga class around age 50. The very first class was a Yoga Nidra taught by my teacher Laura Spaulding.

I was hooked. I tried lots of different classes and teachers. My gratitude to all of them, especially Kim Esteran.
In 2009 Laura offered Volunteer Teacher Training and I signed up. In the spring of 2010 I started teaching yoga as a volunteer at Gilda's Club. Now more hooked.
In 2010, Laura and YE offered me the opportunity of a life time, the Rhonda Lawson Memorial Scholarship. This Scholarship gave me a chance to study and become a Yoga Teacher. The more I studied and practiced and taught, the more I could see the benefits of Yoga for everyone. In 2012 I completed the 500 hour level of teacher training. I am forever grateful to Laura and YE for this gift.
I believe yoga is for everybody. I have had the good fortune to teach many different students who might not look like traditional yoga students, but who are totally committed to the teachings. Actually, I am the student in this arena.
My teachers include Ramanand Patel, Francois Raoult, Doug Keller, Kino MacGregor, Christina Sell, Saraswathi Jois, Thank you Laura for bringing all of these wonderful teachers to YE. I have also with studied Rodney Yee and his wife Colleen Yee, Leslie Kaminoff, Lillias Folen, Dr. Baxter Bell and Judith Hansen Lasater. I completed Judith Hansen Lasater's Relax and Renew training and have been teaching Restorative Yoga for several years.
Becky is a Yoga Aliance RYT 500.
Becky Thompson instructs the following:
Level 1-2 Mixed Level classes are geared to students in normal health who are still working to learn fundamental postures as well as those who have more experience and are seeking to expand, refine and develop their yoga practice at more subtle levels. Sun Salutations and series of flowing poses are incorporated at this level. All classes end with deep relaxation.




Gentle Level is ideal for seniors, pregnant women, and students recovering from illness, injury or surgery. Gentle classes are also great for anyone who needs a little rest and quiet from the busy pace of life. Gentle Yoga has a slower pace and the teachers give more instruction on how to use props such as chairs, the wall, blocks, blankets, bolsters for support. Gentle Yoga introduces fundamental Hatha Yoga postures while ensuring that students have time to understand the instructions, and get the props needed to practice the pose to their capacity. This class may include accupressure yoga, chakra yoga visualizations, pranayama and mudras. Class ends in deep relaxation.

Although this class is suited to students needing assistance, students with pronounced physical limitations are requested to phone us first about their restrictions before coming to class. Phone Laura Spaulding at the main office during business hours at 502-585-9642. Leave a message if she is out and she will return your call.




Experience the benefits of restorative yoga

with teachers

who trained

with

Judith Lasater,

author of Relax and Renew.


Experience the luxury and pampering of being placed in restorative poses. Restorative yoga is the use of props to support the body in positions of ease to facilitate relaxation and health. It is about letting go and opening. Small class size (12 students) allows maximum individual attention. Give yourself the gift of time and space to recharge.

Workshop Fee: $25 Advance registration is required.

Due to the special nature of this practice, no discounted rates are offered. Because this workshop always fills in advance, no drop-ins will be allowed and no refunds will be given if you register and do not attend.

Contact Becky Thompson; rebecca9393@att.net or (502) 422-1634 for any questions about the workshop.

YA 200/300/500 1.5 Technique hrs.