Andrea Rothgerber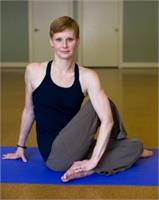 Andrea is a licensed physical therapist who has been practicing in an outpatient orthopedic setting since 2009. She completed her Doctorate in Physical Therapy from Bellarmine University in 2008 and have undergone extensive manual therapy training since graduating. Andrea obtained her orthopedic certified specialist by the American Board of Physical Therapy in 2015. An achievement accomplished by only one percent of all physical therapists. Prior to studying physical therapy, she obtained a Bachelor of Arts with majors in psychology and history from Bellarmine University and a Masters in Science in counseling psychology from the University of Kentucky. She has an organic love of knowledge which is reflected in her multitude of hobbies and interests. She continues to further her education through courses, workshops, journals, reading, hobbies, and everyday experiences.
Andrea began her journey into yoga during her undergraduate studies when one of her roommates brought home a yoga workout video. She immediately fell in love with the poses and the feeling of contentment after finishing a practice. She began to take classes while in physical therapy school to help decrease the stress from her studies. Her love of yoga and knowledge of the human body naturally led her to become a yoga teacher and she finished the 500 hour certification in 2012 several months prior to having her first child. Her personal practice consists mainly of Ashtanga yoga but she has also studied Iyengar and Anusara. She has studied with David Garrigues, Kino MacGregor, Christina Sell, Saraswati Jois, and Ramanand Patel. Andrea has great respect for all styles of yoga and the benefits that they give to their practitioners. She feels extremely lucky and grateful to all the teachers in her life who have given her the gift of yoga.
Andrea Rothgerber instructs the following:
This workshop replaces the Wrist and Hand Workshop

Anatomy Kitchen

This workshop will start with a brief discussion on common elbow, wrist, and hand injuries. It will then become an open-question workshop. Andrea will take any questions relating to anatomy.

Do you have pain in certain poses?

Lingering injuries that won't heal (or seem to take forever)?

New mystifying injuries?

Questions about the muscles and/or joints involved in different poses?

... and any other yoga anatomy question.




This workshop will assist yoga teachers in preventing injuries in class and working with injured students. It is also beneficial for yoga students, and all students at all levels are welcome.

Do you want to know more about Anatomy and how it affects yoga practice? Have you wondered why correct alignment is so important? Would you like to know more about muscle and joint injuries experienced by practitiners at all levels? This workshop explores the anatomy of the body including joint attachments and actions, ligaments and common injuries encountered in yoga class. Class will include approximately 50% lecture and 50% of hands-on locating bones, joints and and muscles and analyze joint positions and muscle activity in yoga poses.

This workshop covers the Hip.