Caroline Heine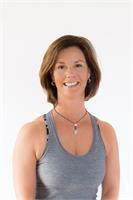 Caroline has been a student of yoga and meditation since 1995. Her primary practice until 2013 was Birkram Yoga and warm vinyasa yoga with Betsy Jones. Caroline completed the RYT 200 hour teacher training at Yoga East in 2013 (her 50th birthday present to herself), where she met her beloved teacher Laura Spaulding and got introduced to Ashtanga Yoga. A complete convert to the beauty and intelligence of the system, she has become a dedicated Ashtangi. She has studied in workshops with Sharath and Saraswathi Jois, Ramanand Patel, Doug Keller, Kino MacGregor, Tim Miller, Francois Raoult, David Garrigues, Peg Mulqueen, Robert Moses and Bea Raydo, and is currently working toward her RYT 500 level certification.
Caroline Heine instructs the following:
Ashtanga Yoga is a traditional form of yoga that is a series of postures in vinyasa style. This class begins with 10-15 minutes of sun salutations and continues with the first half of Primary Series - 24 important postures that build skill, strength and flexibility. This sequence can challenge experienced students and still be accessible for new students. The teachers show you how to use props and modify difficult postures.