Nikki Wolf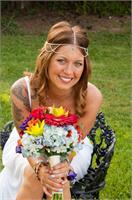 One thing constant in life is change. Yoga is the ability to stay present with the breath during change. Nikki takes a playful approach while teaching this concept in her Hatha classes. Learn to stay present with your breath while positioning your body into beautiful yoga asanas.
Nikki Wolf instructs the following:
Yoga for Pregnancy & Childbirth

This is more than just a prenatal yoga class. It is a community of expectant moms sharing their journey to motherhood. We have fun! We laugh and support each other during class. In addition to yoga postures, we also practice relaxation and breathing techniques that will decrease stress and increase overall comfort while creating more space for your growing baby.

Practicing prenatal yoga can alleviate many of the discomforts of pregnancy and help your body prepare for the WORK of birthing. Creating balance and connecting mind and body as your pregnant body is constantly changing is a challenge. Yoga is an amazing tool to help in this journey.

All expectant mamas are welcome! If you have any questions regarding the appropriateness of attending this class or your individual circumstances, please contact

Nikki Ball at (502) 718-4742

.