Amy DeFigueiredo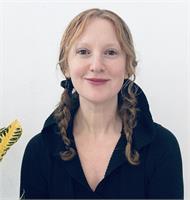 Amy DeFigueiredo has been practicing yoga since 2005. She received her 200 hour teaching certification through the Himalayan Institute in Honesdale, PA. Her first
teacher, Jim Bennitt, gifted her with a solid and rigorous hatha yoga practice which included a tantric perspective of yoga in relation to life. Her training with Rolf Sovik and Pandit Rajmani Tigunait of H. I. cemented her foundational practices and she has continued in the tantric tradition with studies under Rod Stryker and his senior teachers.
In the autumn of 2014, she dedicated to the most fortunate and blessed studies of the
Krishnamacharya/Sri K. Pattabhi Jois Ashtanga lineage lead by Laura Spaulding here at Yoga East; it is within the top three most auspicious happenings of her life. She counts
Diane Avice du Buisson among her most precious teachers. She continues her tantric practice and studies with Venerable Khenpo Tsewang Dongyal Rinpoche of the Tibetan Nyingma lineage as her brightest of guides in the Dzogchen view.
Amy DeFigueiredo instructs the following:
This class is engaging for newer students and those who have been practicing longer. As students' skills and understanding of yoga deepens, the asanas will as well. The class will focus particularly on sun salutations, their purpose and the union of each movement with the breath. Class ends with deep relaxation.