Emily Smith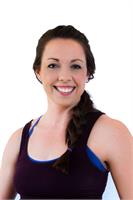 Emily first developed a steady yoga practice in 2009 while attending Ashtanga Led classes at Yoga East under the instruction of her first yoga teacher, Tom Keenan, with whom she also spent two years practicing Bikram yoga. In 2010, she began practicing Mysore-Style Ashtanga with her teacher, Laura Spaulding. She graduated from the Yoga East 200 hr Teacher Training Program in 2017. Emily's practice and teaching are inspired by many of the other wonderful yoga teachers at Yoga East, as well as classes, workshops, and/or retreats led by Francois Raoult, Tim Feldmann, David Garrigues, Robert Moses, bhakti yoga kirtan musician Jai Uttal, and meditation teachers Adyashanti and Dean Sluyter.
Emily Smith instructs the following:
Our reduce rate classes help make yoga available to more people in the Greater Louisville community. This is a mixed level Hatha 1-2 class taught by either new yoga teachers or volunteer teachers.

Mixed Level classes are geared to students in normal health who are still working to learn fundamental postures as well as those who have more experience and are seeking to expand, refine and develop their yoga practice at more subtle levels. All classes end with deep relaxation.

$5 classes are included in all membership options.




Kirtan is one of the core practices of Bhakti Yoga, the yoga of love and devotion. Sanskrit mantras are chanted and sung, often in a call and response style, and accompanied by the harmonium, drums, and sometimes other instruments. Songs range from soft and meditative to upbeat and blissful. These beautiful, repetitive mantras help to clear and calm the mind, uplift the spirit, and awaken and open the heart.

Kirtan is meant to be a participatory musical experience, though no musical experience is required to participate! Guests are also welcome to just come and listen. Bring your voice, and/or maybe even an instrument if you like, or just come to offer your presence and listen to the beautiful music.

This gathering is open to the community and will be offered at the Yoga East St. Matthews location on Wiltshire Ave. The Kirtan will be facilitated by Emily Smith, certified yoga instructor and singer/musician, along with the help of other Yoga East instructors. Come join us!

Suggested donation of $5-$10 per person. Cash or check written to Emily Smith only, please.