Gul Marshall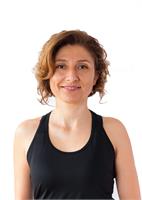 Gul was introduced to yoga by Joan White in Philadelphia more than 17 years ago. Her love of yoga grew when she studied with Laura Spaulding to obtain her 200-hour teacher training. She received her certificate from Yoga East in 2017.
Gul Marshall instructs the following:
Our reduce rate classes help make yoga available to more people in the Greater Louisville community. This is a mixed level Hatha 1-2 class taught by either new yoga teachers or volunteer teachers.

Mixed Level classes are geared to students in normal health who are still working to learn fundamental postures as well as those who have more experience and are seeking to expand, refine and develop their yoga practice at more subtle levels. All classes end with deep relaxation.

$5 classes are included in all membership options.