Roshi Vazinpour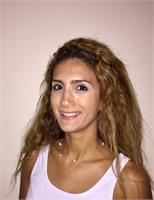 Roshi started practicing Yoga in 2010. She joined the Scottsdale Community College program in Arizona and received her Occupational Certification in Yoga Instruction and 200 hour Teacher Training in 2015 and continued to complete her 500 hour Yoga Training in 2017 with her Iyengar Certified Teacher, Carlyn Sikes. Roshi has been teaching Yoga since 2015 and is influenced by different great workshops with wonderful teachers; Manouso Manos, Carolyn Belko, and thanks to Laura for providing the opportunities to practice with; François Raoult, Tim Feldmann, Robert Moses.
Roshi Vazinpour instructs the following:
Gentle Level is ideal for seniors, pregnant women, and students recovering from illness, injury or surgery. Gentle classes are also great for anyone who needs a little rest and quiet from the busy pace of life. Gentle Yoga has a slower pace and the teachers give more instruction on how to use props such as chairs, the wall, blocks, blankets, bolsters for support. Gentle Yoga introduces fundamental Hatha Yoga postures while ensuring that students have time to understand the instructions, and get the props needed to practice the pose to their capacity. This class may include accupressure yoga, chakra yoga visualizations, pranayama and mudras. Class ends in deep relaxation.

Although this class is suited to students needing assistance, students with pronounced physical limitations are requested to phone us first about their restrictions before coming to class. Phone Laura Spaulding at the main office during business hours at 502-585-9642. Leave a message if she is out and she will return your call.