Erin Cronin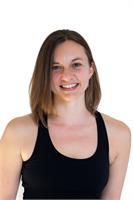 Erin began practicing yoga in 1997 in a small studio in Bowling Green, KY. She moved to Louisville, KY in 2002 and came upon Laura Spaulding at Yoga East and fell in love with Ashtanga Yoga. She is certified RYT-500, graduating from Yoga East's 200 hr training in 2009 and 300 hr module in 2012. Laura Spaulding has been her teacher and inspiration, and she has also studied at KPJAYI in Mysore, India, and is influenced by workshops with David Swenson, Kino MacGregor, David Garrigues, Ramanand Patel, Doug Keller, Francois Raoult & Christina Sell. She is an avid Ashtanga Yoga practioner who enjoys dabbling in other forms, as well.
Erin Cronin instructs the following:
Led Ashtanga Yoga Primary Series in the method of K Pattabhi Jois (Sanskrit-counted vinyasa) leads experienced students through the 48 postures of Primary series with the correct pacing, count and breathing.

This class is not for new students. Students who are struggling will be asked to stop and wait for the finishing poses, or you can go to the next room for relaxation on your own.