Anne Borders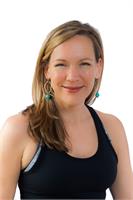 For over a decade, Anne has been finding joy and inspiration in the daily exploration of yoga. Her journey began with Bikram yoga in 1998 and then, after leading classes for many years, she decided to delve deeper into the history, anatomy and philosophy of this transformative practice. She completed her 200-hour training with Yoga East in June of 2013 and has been passionately teaching ever since. Always looking to expand her yogic understanding, Anne has attended workshops with John Friend, Kino MacGregor, Doug Keller, Christina Sell and many others. Her most profound inspirations come from her students and family. She is honored to serve those looking to tap into a deeper understanding of their bodies and spirits.
Anne Borders instructs the following:
Level 1-2 Mixed Level classes are geared to students in normal health who are still working to learn fundamental postures as well as those who have more experience and are seeking to expand, refine and develop their yoga practice at more subtle levels. Sun Salutations and series of flowing poses are incorporated at this level. All classes end with deep relaxation.




Gentle Level is ideal for seniors, pregnant women, and students recovering from illness, injury or surgery. Gentle classes are also great for anyone who needs a little rest and quiet from the busy pace of life. Gentle Yoga has a slower pace and the teachers give more instruction on how to use props such as chairs, the wall, blocks, blankets, bolsters for support. Gentle Yoga introduces fundamental Hatha Yoga postures while ensuring that students have time to understand the instructions, and get the props needed to practice the pose to their capacity. This class may include accupressure yoga, chakra yoga visualizations, pranayama and mudras. Class ends in deep relaxation.

Although this class is suited to students needing assistance, students with pronounced physical limitations are requested to phone us first about their restrictions before coming to class. Phone Laura Spaulding at the main office during business hours at 502-585-9642. Leave a message if she is out and she will return your call.